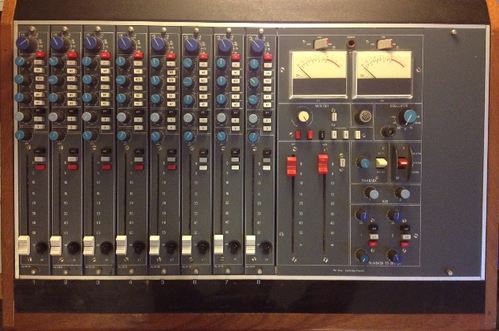 Damn excited about the recent acquisition of a Neve 5432 console at Bova Lab! Recording and stem mixing heaven!
This late 70's analog board, and others in the Neve family, of course, are known for delivering the highest quality sound. This model was originally designed for broadcast use at the BBC, so the build quality is truly outstanding. In fact Neve expert/guru Geoff Tanner once said that one of these consoles took a 10ft fall off the back of a truck, hit the concrete, and still worked flawlessly. Good to know but I won't be subjecting this one to that kind of risk ever.
Running tracks in a mix through this board adds a healthy dose of depth, punchy low end, and shimmery highs. The mic preamps are great too. It goes without saying that Neve channels are famous for their quintessential vintage tones. I got this particular Neve from Jimmy Shaw (of Canadian band Metric) who used it in the recording of their last couple of albums. The console was recently fully serviced and recapped. Here' s a clip of Jimmy talking about the Neve:
Thanks to awesome engineer Robbie Lackritz (Feist, Bahamas, Zeus, Jamie Lidell) who introduced me to the 5432 in the first place.